Engraving Cured Concrete
Since the Stone Age mankind has been using tools to make life a little easier.  Now we're not talking about clubbing a lover across the head although that might be one of the first uses of the club.  We're talking about technology and how it relates to the concrete industry as a whole.  Whoever has the latest effective innovation and knows how to use it, wins the day.  Technology exists to make our lives easier.  When the first computers were created, they took up entire rooms, they performed limited tasks, but did them very well.  Only an elect few could handle them or even understand how to program them.  Eventually, computers became smaller and smaller, more affordable and easier to use.  Eventually they broke free of wires and we have the amazing world of mobile devices that we enjoy today. 
CNC (computer numerically controlled) machines have also followed this same progression.  Originally invented during the space program, CNC has been used by scientists and technologists across the world to fabricate precise parts, engrave microscopic conduits for circuit boards and much more.  In the concrete world we've heard of the 3D concrete printer, with its ability to create large-scale 3D printed objects out of concrete.  These innovations are wondrous and open new doors to possibilities.
Red Art Technologies has taken CNC to the next level, by making it portable.  Our portable concrete engraving system is built to be picked up and placed directly onto the engraving surface, whether it's horizontal or vertical.  No other engraving system can do this.  This is a game changer as far as mobility, scalability and application.  By making concrete engraving mobile, Red Art Technologies has opened up the possibility of individuals, businesses and governments to maximize their existing surfaces with designs, logos, donor recognition, etc.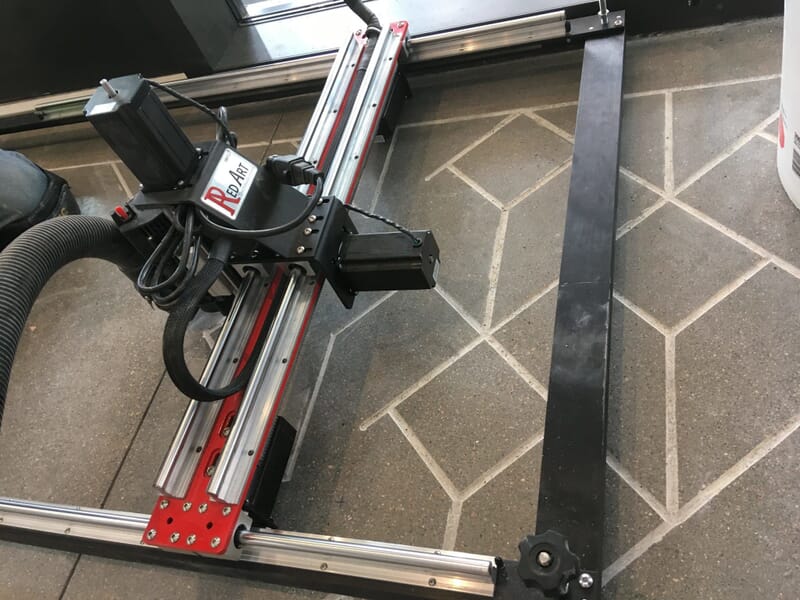 Making the portable concrete printing / engraving system user friendly.
Over the last 5 years Henry Ashworth and the Red Art Technologies team has spent countless hours developing an engraving system that is:
Safe
Environmentally Friendly
Easy to Operate
Mobile
Durable
These principals have shaped and evolved the CNC Pro into the machine it is today.  When someone purchases a CNC Pro, they are also joining a brotherhood of fellow engravers, contractors, entrepreneurs and business owners who are willing to share their ideas, engravings and support.  Red Art Technologies has also produced self-paced training materials for all CNC Pro owners, to help them hit the ground running with their new concrete engraving machine.  Some owners already are familiar with the decorative concrete market, while others are venturing out into starting their own portable concrete engraving business.  In any case Red Art Technologies has provided the steps they need to familiarize themselves with the market and get their name out there. 
Honestly, our biggest hurdle has been letting people know that this is even possible.  Up until this point the only option for engraving/etching into existing surfaces has been sand blasting.  This process is messy and not environmentally friendly.  That's why much of the concrete world has turned away from it exploring other possibilities such as stamping.  Stamping is great, we can even use our machine to create custom stamps, but once the concrete cures, what's next?  We're here to announce that the days of working with cured concrete are here again.  Forget the sand, forget the mess, simply place the machine onto the surface you want to be engraved, and hit "go".  There's really not much more to it than that. 
Okay, you might not be technically savvy.  Doesn't matter, the Red Art Team, fellow engravers will help you along the way.  IF YOU CAN CLICK A MOUSE YOU CAN OPERATE THIS MACHINE.  We've built the machine for everyone.  Concrete is everywhere, why not offer your clients the ability to have their logo, text, phrase or design engraved onto their floor, patio or workspace.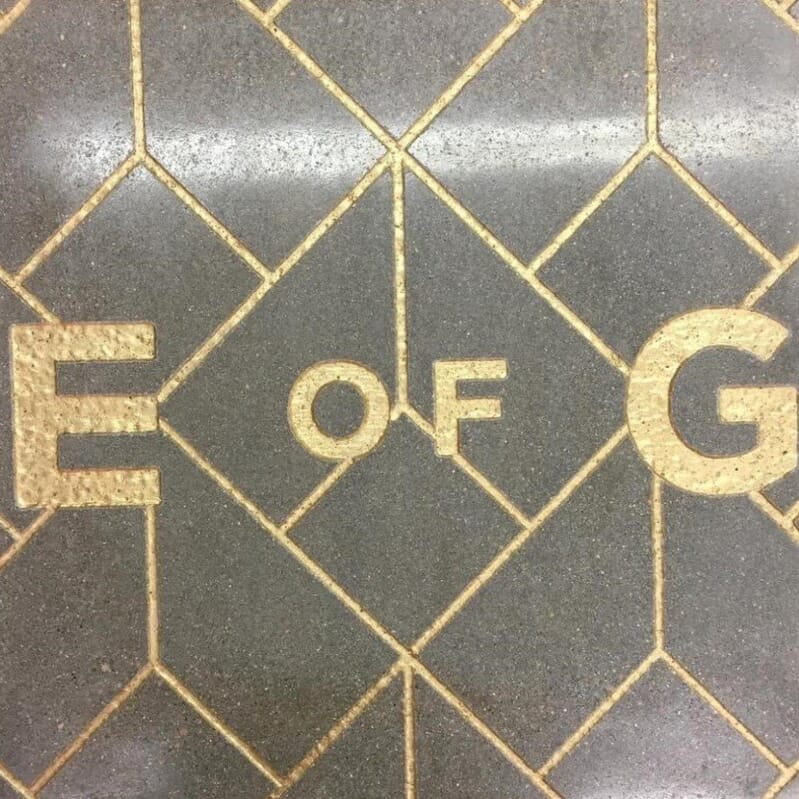 What if I screw up?
Great question!  In most cases, we only engrave .08 inches into the concrete surface, this allows for enough depth for an inlay while showing contrast and exposing the aggregate below.  This also means that a total screw-up-job can be easily erased with a grinder.  Take off the surface and start over.
Safety Signage
2020 is the year of safety for Red Art Technologies.  We hope to deliver virtually indestructible safety signage to factory floors, walkways, hospitals, theme parks and much more.  Tell the insurance guy that your safety is written in stone (literally).  By embedding signage into concrete or stone, it makes it immune to wear and tear.  Beyond that, you can also engrave QR codes for factory automation that are critical to production.  You'll hear us say it over and over again, the possibilities are endless.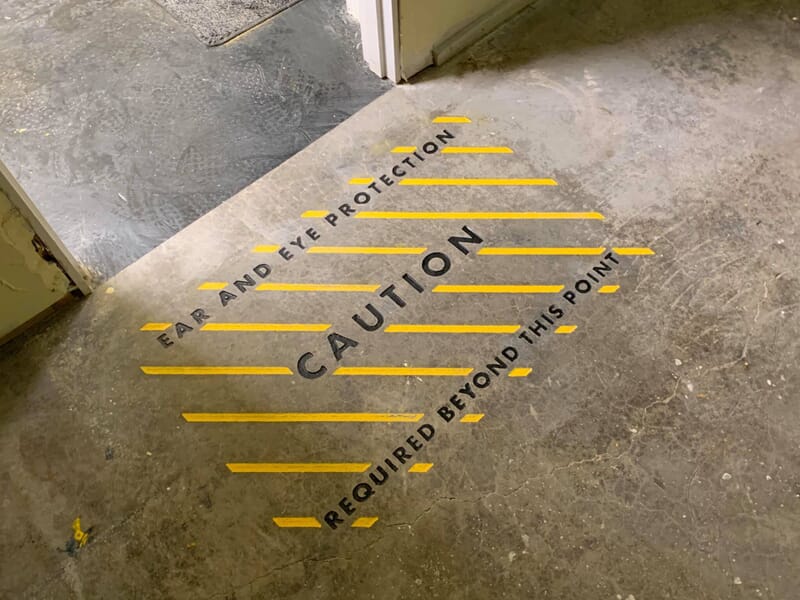 Come see us at the 2020 World of Concrete in Las Vegas, Nevada February 4-7.  We will be happy to show you how our portable decorative concrete engraving system can work for you.